NOTE : For the deposit you can mail order or to our bank account or for the cash payments you can come till December 31th noon
Click for Fix Menu
NEW YEAR's EVE A LA CARTE MENU
Kathisma Mountain Salad (Kathisma Dağ Salatası)
28 TL
Finely sliced tomatoes, cucumbers, onion, green peppers, dried apricot, chopped parsley and walnuts; topped with cow's milk feta cheese and an olive oil, grenadine dressing. Served with chunks of fresh lemon.
Seasonal Salad (Mevsim Salatası)
25.5 TL
Seasonal green salad leaves, black olive slices, green peppers, carrots, tomatoes, cucumbers; topped with corn, Turkish white cheese and walnuts; dressed with lemon juice and olive oil.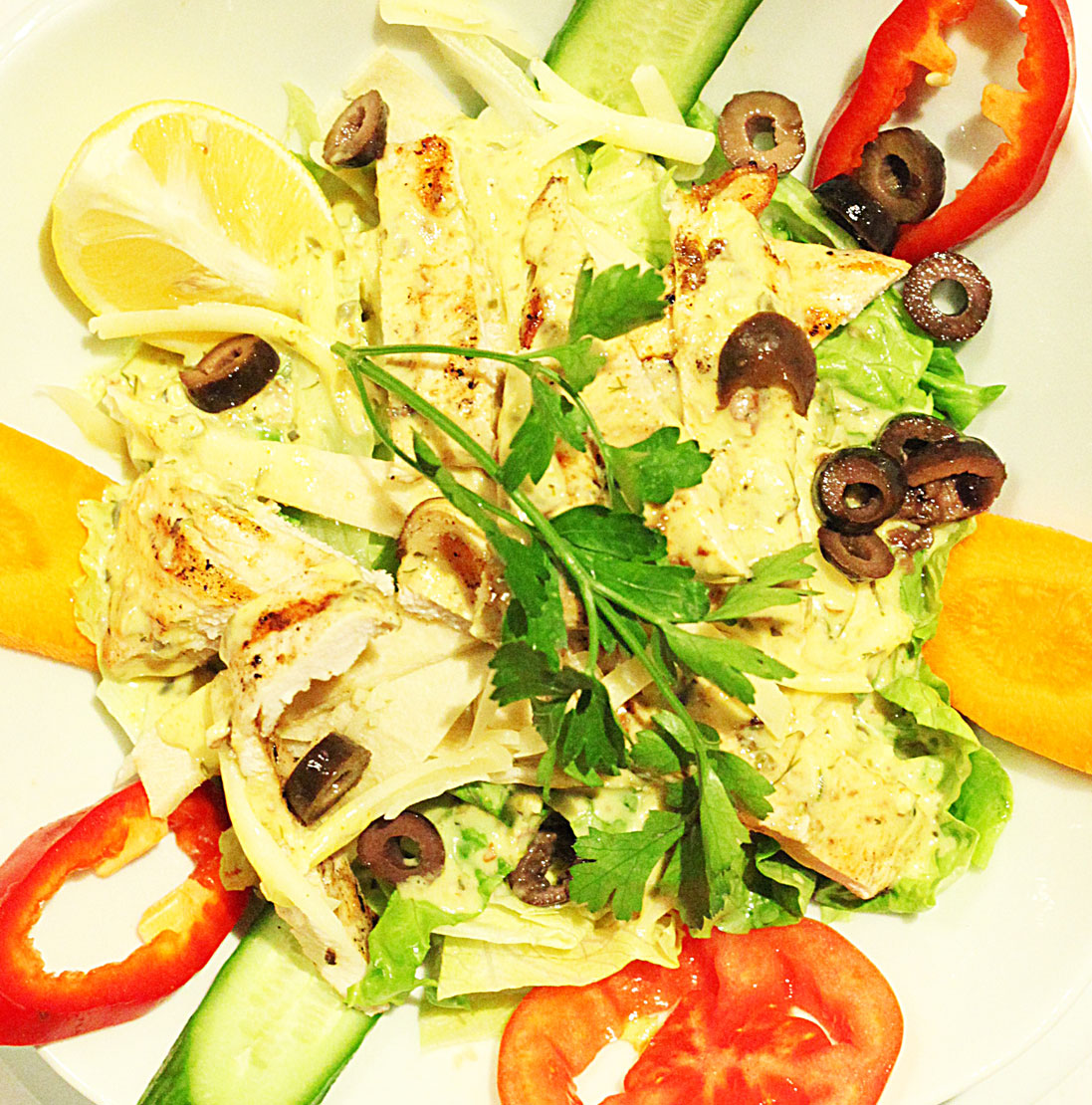 Caesar Salad with Chicken (Tavuklu Sezar Salatası)
33.5 TL
Lettuce, cucumber, red pepper and corn topped with chicken, crispy croutons and cheddar cheese; served with Caesar sauce.
Hellim Mediterranean Cheese Salad (Hellim Peynirli Akdeniz Salatası)
32 TL
Mixed Mediterranean salad leaves, tomatoes, cucumber, corn, roasted red peppers and sesame seeds; topped with grilled hellim (halloumi) cheese and dressed with sour pomegranate sauce.
Shepherd Salad (Çoban Salatası)
26 TL
Chopped tomatoes, cucumbers, onions & parsley dressed with olive oil & lemon.
Tuna Fish Salad (Ton Balıklı Salata)
32 TL
Lettuce, tomatoes, croutons, corn, red onions; topped with tuna fish and a vinegar and olive oil dressing.
Sea Food Salad (Deniz Ürünleri Salatası)
45 TL
Seasonal greens, rocket leaves, cucumbers, red onions, tomatoes topped with shrimps, seasonal fillet fish, calamari, mussels in olive oil & lemon juice.
Penne All Arrabbiata
30.5 TL
Penne pasta shapes with tomatoes, black olives, capers and herbs sautéed in white wine.
Homemade Turkish Ravioli (Mantı)
34 TL
Homemade ravioli filled with succulent lamb and served with a yoghurt, garlic & mint souce, drizzled with chilli oil.
Penne with Chicken & Spinach
35 TL
Penne with sauteed chicken, spinach & creme sauce
Spaghetti Bolognese
34 TL
A spaghetti favourite with minced meat in a rich tomato sauce.
Tagliatelli with Sea Food
45 TL
Tagliatelli with sauteed shrimpsi calamari, seasonal fillet fish, garlic & cream sauce.
Levrek Giovonni
49 TL
Fillet of sea bass covered in a saffron cream sauce of sautéed onion, green pepper, mushroom, garlic & thyme. Served in a terracotta dish.
Grilled Sea Bream or Sea Bass
49.5 TL
Grilled fresh sea bream or sea bass with fresh greens, boiled potato and side sauce
Seafood in the Wok
78 TL
Sautéed shrimps, fillet of sea bass and monk fish, served over flames in a Turkish wok alongside a creamy basil sauce and potato on the side.
Mixed Seafood Plate (For Two Person)
180 TL
Grilled whole fish, swordfish pieces, jumbo shrimps, fried mussels, fried calamari; served with crisp green salad leaves, potato and tartar sauce.
Jumbo Shrimps in the Wok (Our Speciality)
119 TL
Jumbo Shrimps, calamari sautéed in butter with tomatoes, green peppers, garlic, mushroom, chilli and soy sauce. Served in the Wok over flames.
Grilled Salmon
55.5 TL
Grilled salmon with fresh greens, boiled potato and orange glace sauce.
Jumbo Shrimp on the Marble
110 TL
Jumbo shrimp marinated in butter with spices; grilled served on a hot marble with boiled potatoes and side three different sauces.
Calculate Your Table Total